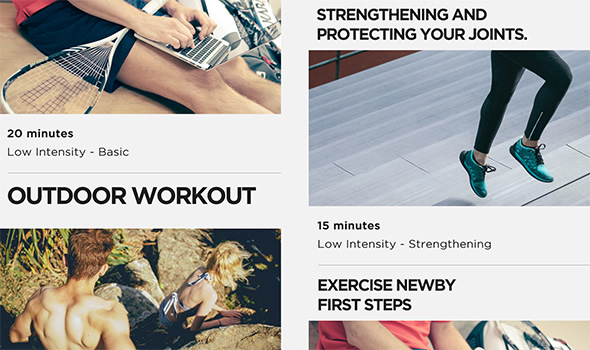 Content or Clutter?
The general consensus of Content Marketing is that if you haven't caught on you're going to be left behind. It can help you achieve at least one of many brand and sales objectives, including increased brand awareness and brand engagement, position the brand as an authority and owner of a niche, improved organic search ranking, link-building, sharing and recommendation via social media, lead generation and conversion, to mention just a few. This same breadth of possible objectives, however, can run the risk of losing sight of why you're creating the content in the first place and can lead to content for the sake of content, and adding to the "clutter". As Mark Ritson points out when asking "Is content marketing a load of bollocks?" for Marketing Week, there is a plethora of content marketing out there, even citing one brand that published 50,000 separate pieces in one year, but his concern is that engagement hasn't necessarily increased, claiming "19 out of 20 pieces of content marketing have little if any impact."
In the world of B2B marketing none of us can deny the overwhelming amount of articles and infographics out there (this one included), the sheer volume of which can be difficult to digest. But let's look at Content Marketing for consumer brands.
It can't all be referred to as clutter when we see really powerful, engaging, award-winning activation campaigns that grab attention, inspire interaction and create a buzz. Take a look at 75 examples revealed by the Content Marketing Institute. But the term Content Marketing is applied broadly to any creative campaign where the meat of the message or call-to-action leaves the brand or product in the background and asks the consumer to engage in a different activity or issue. We will touch on the importance of the brand taking a back seat and distance from the content later on.
However, while these often innovative approaches to creating new kinds of exchange with the user can see impressive results in the short-term, a more reduced definition of Content Marketing can lead to a longer-term and more meaningful conversation with the customer. It is said that Content Marketing should be either Useful, Funny or Disruptive. And the sector of Consumer Health products or OTCs offer very powerful opportunities for using Content which is USEFUL.
Consumer Health
This opportunity is even more significant than with other household FMCGs because the decision to purchase Over-the-Counter (OTC or Consumer Health) products will almost always come from a real situation, discomfort or doubt. And the first action the customer tends to take after identifying there is a problem is, not surprisingly… to search for information. According to research quoted in this article, "more than 80% of internet users have searched for health-related information in the last 12 months". The user is looking to have their questions answered, and a brand that answers them with truly useful content is providing them with the real and tangible value. Also the opportunities for users to connect with consumer health brands through engaging, inspiring real-life customer stories and in some cases to form communities and sense of shared identity with other consumers are endless.
A Website that Funnels
Not only is value delivered, but lasting value is delivered. By carefully designing the content to accompany the different psychological stages of the famous Purchase Decision Funnel (Awareness, Consideration, Validation, Decision to Purchase and Recommendation), a well thought-out content based website can hold the user's hand through all the stages, providing them with everything they need to become not only a recurring, loyal customer but one who evangelises the value of the brand to their contacts.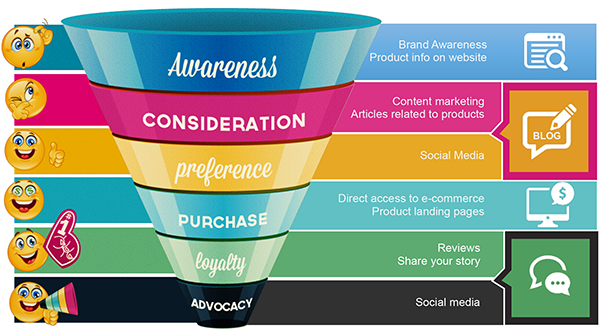 Stage 1: Awareness – SEO
Content and inclusion of keywords relating to complaints or health-related inquiries will put a site further up the ranking in response to searches for information that users make. An OTC product may have a very strong and well-recognised brand, but perhaps isn't front of mind at the time that a user is thinking about their real-life need or inquiry and is making a search. Therefore content has the potential to immediately connect the brand with the initial need, rather than with the product. This might seem simple, but it's a compelling difference that many brands are still not quite getting.
Stage 2: Consideration – Product information and Community of other consumers
We never said it's only about the content. The value that is added to the user's opinion of the brand, when they are provided with not only the exact answers to their doubts and concerns, but on top of it the solution (product) is really significant. So there is a good argument for a well-balanced and carefully structured site that connects content with product and gently guides the user through a navigation that answers all their queries. They will be looking for validations, to be sure that the site, the brand, the products and benefits will all work for them. For example, the added worth of hearing stories from other consumers giving a more human and meaningful connection to both the content and the product and creating a sense of community is also an invaluable tool to aid validation. And if they can ease all their doubts through these various aspects of the content, they'll continue to the next stage, the purchase.
Stage 3: Purchase decision – Call to Action
More and more OTCs are being ordered online, either directly through the brand's own e-commerce or from major national pharmacy, supermarket sites or Amazon. Strong Calls to Action to go straight to purchase aren't intrusive. They are providing the user with the solution they seek and making it as easy as possible for them.
Stage 4: Recommendation – Social Media
After a week or so, the retailer can email the customer inviting him to get online feedback and review the product purchased, in exchange for a discount coupon, for example. Those reviews then will be published online, near the "buy" button on the products catalogue, to help new browsing customers to make their purchase decision.
Social media is also a strong communication channel for OTCs. As we know, people share experiences and opinions freely, in a more relaxed way. OTC brands should respond to this opportunity creating relevant, shareable, educational and useful content, in different formats like data tables, infographics, short factual video stories, W.H.O. short and relevant info, etc. All these actions could be designed in order to build authority for the brand and to reach highest ratios of participation and organic propagation in the audience via all social media platforms.
Stage 5: Recurrence or Loyalty
If the overall experience is very positive; The content useful, the purchase process seamless, the product appeared attractive, this customer will keep returning and will look to a brand they feel has genuine interest in them and authority on their area of expertise for a repeat positive experience.
So that's a brief overview of the theory that a well-planned website could be working a lot harder for a brand, not only increasing the amount of traffic or users entering the top of the funnel in the first place, but also hold a user's hand through the decision process, greatly increasing their chances that they get to the bottom of the funnel, and even come back for more.
Now, for some practical details on how to implement a content marketing strategy for OTC websites, take a look at part 2 of this article: Some tips on how to implement a content approach on the pharma industry.